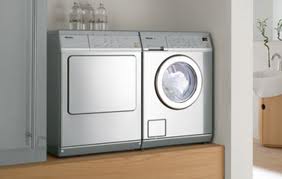 Miele (pronounced ME-luh) has been producing washing machines since 1901, and since then the reputation of a Miele washer and dryer have garnered rave reviews.  Miele has produced the most sophisticated, yet easy to use, washers & dryers in the industry.  Their driving force is their dedication to the philosophy of their motto, "Immer Besser" – loosely translated means "Forever Better" – a constant commitment to improve upon what they currently offer.
Before we talk about models and specs, here's a brief background on the company…
Miele is still owned and operated in Germany by the same two families that started the company in 1899.  They are also a vertically integrated company, which means they manufacture most all of the components found in their appliances.  From electronics, computers boards, stainless steel, and even screws!  This means they have a much better control on quality than most manufacturers today who typically purchase their parts from the cheapest supplier.  Cost is a concern for Miele and they require their engineers to make parts that are economically competitive so that they are not wildly out priced in the market place.
Because of Miele's commitment to Forever Better and their excellent quality control, they are the ONLY manufacturer who states in their brochures and sales literature that you should expect a life expectancy of a minimum of 20 years on all their appliances!  They routinely test their products for over 5,000 cycles, or about 10,000 hours of operation.  That includes all components, so you don't need to worry about routine maintenance. This is especially true with the Miele washer dryer as they get heavy use in most homes.  And although they have a standard warranty of one year parts and labor as most manufacturers do today, you won't find any manufacturer making a 20 year life expectancy claim!  On average, most washers and dryers last 10.5 years as determined by a leading industry organization.  Miele is designed to last a minimum of twice as long as the average!
Let's start with Washing Machines.
In North America, Miele offers two size models – a European compact and an SLC (Super Large Capacity).  The compact is capable of washing up to a Queen size comforter – depending on how thick the fill is.  The SLC is among the largest in the industry and can hold a King size comforter.  ***Quick note on capacity.  The industry along with the government has made comparing capacity in washing machines very confusing.  Most sales reps have no idea how the industry is gaming the system as far as capacity is concerned.  Manufacturers are offering large volume drums but using less water to gain a bigger volume rating – closely tied to Water Factor.  This is a deceptive practice and will not effectively wash the same amount of laundry.  Miele has never been involved in that game, and even though you will find other washers with a bigger stated capacity – it doesn't necessarily mean it will wash more laundry per load.***  Rest assured, the Super Capacity Miele will handle the largest of loads.
Models available in SLC:
Miele W4842 and W4802.  Both washing machines offer the same quality you expect from Miele (the same guts in both machines).  Here is a rundown of shared features:
Buzzer off / on
Control panel child lock out
1000 W heating element (for getting whites their whitest, etc.)
Interior light
Sealed pan – this prevents an internal leak from ruining your floors!  HOT ITEM
6 speeds
1400 RPM maximum spin speed (laundry comes out much drier and saves time and energy in the dryer)
Six temperature settings
Porcelain enameling  – prevents scratching and keeps the washer looking newer much longer
Clean machine option – to help keep the washer from getting a mildew smell
Pre-wash for heavily soiled items
Sensitive function for an extra rinse – perfect for those who suffer from allergies
RemoteVison™ –  I'll discuss this more in detail later.  A very great development!
In addition to the above, the Miele W4842 offers:
An LCD display
Cycle countdown timer
Delay start clock
Master Care™ – Additional programs for Dress Shirts, Denim / Jeans, Comforter, Outerwear, etc.
Dimensions are 39" High, 30" Deep, and 27" Wide.  For a Super Capacity washer, these dimensions are slightly under what is considered a standard today of 31 ½" Deep.  ** Be sure to take good measurements to be sure a Super Capacity washer and dryer will fit in your laundry area!**  I can't tell you how many times this wasn't done and the washer I sold to someone had to be exchanged because they didn't have the room.  Please don't assume you have enough room.  Get good dimensions before you buy anything to save yourself some time and a possible headache.
The difference in pricing is only $200 as of the time of this writing, and since these washing machines are built to last over 20 years that will only cost you about $10 more a year to purchase.  I'd recommend this model if you aren't on a super restricted budget.
In the European compact, there are 3 models:
Miele W3033, W3035, and W3039i.
They all have the same features as the SLC model W4842.  The difference is size and the W3033 is white with an angled control panel, the W3035 is stainless steel with an angled control panel, and the W3039i has a flat control panel and will accept a custom wood panel to integrate into your cabinetry.  Note: the matching dryer model T8019Ci is only available as a condenser dryer.  This is probably not a good choice for most people as a condenser dryer takes much longer to dry since it isn't externally vented.
Their compact design makes them exception for a master bedroom laundry set, or for those with very limited space to put a washer and dryer.  Measuring only a minimum of 33 3/8" High (can be placed under a standard counter top height cabinet), 22 ½" Deep (perfect for anyone with limited space – keep in mind dryer venting can add an additional 4" to the back if you're rear venting), and 23 ½" Wide.  With a compact size you'd think the capacity is small.  Think again!  These are the standard size European washers and can handle most Queen size comforters, or about 11 standard size bath towels!
Why Should You Buy a Miele Washer?
Three things:
They wash better than anything else available.
They are gentler on your clothes than anything available.
They last much longer than anything else available.
Wash performance.
German engineering is really something to marvel and the Miele washers and dryers are no exception to this rule.  Miele understands it takes five things to do a proper wash:
Water
Detergent
Heat to activate the detergent
Mechanical action
Time
If you reduce one of these elements, you have to add in another area to get a good wash.  Since Miele washing machines have been "eco-friendly" since before it was a popular thing to do, they have always used the right amount of water – not too much, but not too little either.  Miele washers use an average of 13 gallons of water per load in the SLC's, and 11 gallons in the compacts.  Since they use less water, they also reduce the detergent needed.  To compensate for these reductions they add heat.  And this is one of the areas of genius of German engineering.  They progressively add the heat.  They won't shoot hot water at the laundry in the beginning because that will set protein stains.  And when they heat to a temperature, they don't target a temperature and give up on that temp if it takes too long to get there like virtually every other brand.  They give the laundry proper mechanical action by using more or less water – depending on the cycle.  (A delicate wash will use more water to reduce the fall height – the distance from the top of the drum to the water floor.  Whereas a denim cycle will use less water to add more fall height and greater agitation.)  And it takes a certain amount of time to do a proper wash.  Miele isn't necessarily interested in your schedule; they are much more interested in washing properly!  And after all, isn't that the main function of the machine in the first place?
So what does this mean to you as far as wash performance is concerned?
An associate of mine who worked for me had an unfortunate thing happen to him at his wedding.  Well, actually it was his bride.  Someone spilled a full glass of red wine on her brilliantly white silk wedding gown!  He told her their Miele washer would get it clean and not to worry about it.  They fully intended on washing the gown after they got back from their honeymoon, but life happens and six months go by.  They both believed there was NO WAY it would come out clean, but decided it was already ruined, why not give it a shot?!  The very first wash produced the brilliantly white wedding gown without any hint of a red wine stain!  And for each year Miele was in the local home show, his bride's wedding dress hung above the Miele washer and dryer as an incredible testimony to what the Miele washer can do!  I have story after story of how Miele washers removed axle grease, highlighter pen stains, and virtually every stain you could get on your clothes.  Instead of throwing away a wedding dress and the memories it holds, it is now an heirloom that may be passed on to their daughter some day.
Gentler on clothing.
In an independent study by a German research team, they discovered that the design of these new Miele washers and dryers extended the life of your clothing and laundry by 4 times!  They estimated that a family of four who earn approximately $80,000 per year could save more than $4000 per year in clothing costs alone!  (Believe me… the metrics they used were quite impressive and not hard to believe if you read the whole report.)
Why are the Miele washers gentler on my clothes than any other brand?
Several factors:
Honeycomb designed wash drum
Hydro-formed stainless steel drum
Stainless steel fins (instead of plastic like everyone else uses)
The Honeycomb drum is a vast improvement in gentle wash performance and water extraction.  Washer drums are made of a sheet of stainless steel.  Manufacturers punch holes in the steel.  Doing this causes burs on the back side of the drum – the side you never see. The problem with this process is, most manufacturers don't do anything after this step.  So when your laundry is spun out at high speeds that modern front load washers are capable of today, parts of the fabric are forced through the holes due to centrifugal force.   When to fabric passes through when the drum comes to rest, the fibers are torn on the rough burs.  This greatly reduces longevity for the items you are washing and creates lint.
Miele takes two steps to reduce pilling and pitting of your clothes.  First, they grind and polish the back side of the drum.  The quality control step to ensure the drum is non-threatening is to run a hand with a nylon stocking on it over the drum.  If the stocking tears, the drum is not only discarded, it is melted down!
The other way Miele has reduced pitting and pilling is the shape of the Honeycomb drum and the size of the holes in the drum.  When you look inside a Miele washer, you'll see a series of convex honeycombs.  You'll also notice the holes are greatly reduced and smaller than virtually every front loader on the market today.  Miele wanted to produce a better machine that was more gentle on your clothes, so they wanted to reduce the area the clothes could pass through – hence the smaller holes.  That is all fine and dandy, but wouldn't that naturally mean poor water extraction as the water can't freely pass through and higher energy costs as a result of wetter clothes going into the dryer?  Miele found the honeycomb better directed the water through the holes and achieved even BETTER water extraction in their previous models!  Talk about a Win / Win.
Hydro-formed stainless steel. You'll hear us salespeople talk about how much better stainless steel is for you clothing and it gets better with age as it softens.  That's not good enough for Miele.  They want the stainless steel as soft as it can get the first time you use it!  And that's exactly the benefit of hydro-forming – the water pressure that forms the stainless steel to the mold not only forms it properly, it ages it to its softest state.
Stainless steel fins. Every manufacturer but Miele use plastic fins that pick up the clothing for agitation.  Over time zippers, coins, etc. can pill the plastic and create a very rough edge creating a harsh environment in the washing machine.  Miele uses stainless steel so you never have to worry about your laundry getting torn up a little at a time because of pitted plastic fin.  (I'm telling you, they think of everything!)
Before we talk about dryers, I need to mention RemoteVision™.  This is a device that is available at an additional one time cost to you that links via WiFi and communicates with Miele directly!  It can determine if a service call is needed.  It can notify you via email, text, or phone if there is a problem.  Don't be surprised if you get a call from Miele service letting you know they are sending a technician because of a fault code they received in Germany.  Even though these are the best appliances available, they are still made by humans are can require a service call. If you do need a service call, RemoteVision™ makes this experience much easier to handle!
Miele Dryers
"Everyone makes a good dryer.  Why should I buy a Miele?"
While it's true most manufacturers build good dryers, good isn't good enough for Miele.  They are gentler on clothes, use the least amount of energy possible, and last longer than anything else on the market.
Gentle on clothes.
Most dryers use a very high heat to dry the laundry.  This is bad for two reasons:  it breaks down the fiber in the clothes, and it uses a lot of energy.
Since Miele washers extract so much water – enough that the laundry feels pretty dry when the cycle is complete – the dryer doesn't need to heat the air as hot.  Miele dries at about 120 degrees F.  Most dryers heat over 150 degrees F.  They can do this because they have a high capacity blower that is approximately double the CFM rating as a standard dryer.
They also use hydro-formed stainless steel as in their washing machines.  Again, this ages the steel to it's softest state.
Miele's moisture sensors in the dryer is very delicate and is in constant contact with the laundry.  This prevents over-drying and wasted energy.
Energy Efficiency
You will find that there isn't a wide range of time cycles because of this.  But that's because Miele knows it is much more efficient to let the machine decide when the clothes are dry than to let the consumer arbitrarily guess at how long it may take.  Controlling?  Yes, but in a good way
Miele dryers are available in Super Capacity and the European size.  There is the Miele T9802 electric dryer, and T9822 gas dryer.  Miele only produces a gas dryer in the SLC category.  In the compact there are the T8003 which matches the W3033 washer, the T8005 that is stainless steel and matches the W3035 washer, and the T8019Ci condenser dryer (non-vented) and panel ready, and the T8013C condenser dryer in white.  Most people will be able to vent their dryer and this is by far the best option.  Don't choose the condenser dryer unless you absolutely can't vent to the outside and you hate going to the Laundromat!
It is highly recommend that you use rigid dryer venting for Miele dryers because of the high CFM rate.  Using accordion style venting will create more noise and less performance.
Laundry Pedestals.
Pedestals are available for all models EXCEPT the stainless steel W3035 and T8035.
Miele pedestals mount to the washer and dryer from the bottom of the pedestal all the way up and into the appliance.  This creates more rigidity and less vibration. Miele is one of only two washing machines I will let my customers put pedestals under on a second floor.  Other pedestals for other brands create a lot of vibration – enough that sometimes you'd swear your house was going to shake apart.
A Miele washer and dryer isn't cheap, but I really feel they are the best value.  When you consider how long they last, how gentle they are on your clothes, how well they clean, and how little energy they use they are a force to be reckoned with.  A set will cost over approximately $3500 USD, but they aren't the most expensive.  But in my opinion, they are the best.  You won't be able to find them in the big box stores, so check out their website for your closest dealer.  And by the way, if you love their washer and dryer, I won't be surprised if you buy other Miele appliances, like one of their dishwashers of vacuums!  People get addicted to their high quality products and actually say they love them!