"Dear David, I'm doing a kitchen remodel and am considering putting in a Sub Zero refrigerator.  I look online and find mixed reviews.  My question to you is: do you think Sub Zero refrigerators are worth the expense; and aren't they just like all the other refrigerators except the look?  I appreciate your help!"
I can't tell you how many times I've been asked, "Are they worth the money?"  or "Why would I buy a Sub Zero?"  Having owned a Sub Zero bottom freezer refrigerator and also selling hundreds of them, here's my answer to both of these questions.
Are Sub Zero Refrigerators worth the money?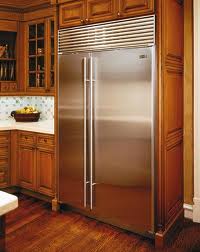 I have always told my customers if the budget will allow you to own a Sub Zero, then YES they are worth the money.  Here's why:
Quality
As far as quality goes – YES!  There really isn't anything built better.  There may be a few other refrigerators available today that I would say is on the same level, quality-wise (Miele and Liebherr would be two others I consider of equal BUILD quality).  Today's Sub Zero fridge is built in the USA just outside of Madison, Wisconsin.  They are using the best parts available to them that they don't build themselves, and the refrigerators are built by hand for the most part.
A compressor is the heart of the refrigerator.  No manufacturer builds their compressors today, but Sub Zero buys the best compressor available on the market today.   This is a pretty big deal considering this single part in your refrigerator is working ALL THE TIME!
Dual Refrigeration System
In a nutshell, the parts that cool your food are the compressor, condenser, and evaporator.  Many built-in refrigerator manufacturers today, like GE Monogram, Kitchen Aid, and Jenn Air to name a few, offer dual evaporators and condensers, but not two compressors.  This is fine as far as food preservation is concerned (we'll talk more about evaporators later), but as far as longevity is concerned, you aren't getting an advantage at all.
Current energy standards have caused the manufacturers to use smaller compressors that have to run constantly to keep energy costs down.  (I know it doesn't make much sense, but trust me on this one.)  By offering two compressors that only work when required for each compartment, you greatly expand on the life cycle of the refrigerator.  Sub Zero's own statistic is 17 years of life compared to the industry average of 10.5 years – that's over 40% more life expectancy than the standard!  Here in the Pacific Northwest, we routinely see Sub Zero refrigerators lasting 20 – 23 years because our average yearly temperature is a little lower than most places in the United States.
Food Preservation
Sub Zero claims the average family of four will save approximately $25 a week in food loss due to the excellent temperature control and humidity they offer.  To be honest with you, I used to think this was an exaggeration – until I owned one!  I was living alone when I moved in to a house that had an OLDER Sub Zero, model 550 in the kitchen.  I knew I would save some money, but didn't think it would be that much.  I estimated I was saving a MINIMUM of $10 a week in food loss.  Here's what I found:
Strawberries lasted about 2 weeks
Cheese didn't mold or get crusty after being exposed on a shelf after a month (Sounds crazy, but it's an experiment I'd heard others talk about and had to see for myself)
Ice cream opened and untouched for over 6 weeks looked and tasted as if it had been opened the night before
Dairy lasted considerably longer than the expiration date
Since the 500 series that I owned, Sub Zero has made several improvements and you can expect to get even better results.
Now here's why food lasts as long as it does…
Temperature management.  A Sub Zero refrigerator uses a sophisticated temperature management system that checks the temp in both the refrigerator and freezer EVERY SECOND of the day.  This may seem like a no-brainer to you, but standard refrigerators don't do this.  And Sub Zero also responds a 1 degree change.  This keeps your fresh foods in the right temperature zone for better preservation.
Evaporator and Humidity Control.  An evaporator moistens or dries out a compartment.  A single evaporator refrigerator tries to hit the middle ground of approximately 30% humidity.  This isn't good for either the refrigerator or freezer, but is as close to a good compromise as possible.  Fresh foods need about 50% humidity (think leafy greens, strawberries, etc.) for maximum longevity.  Frozen foods prefer 0% humidity for best results, as any humidity requires more defrost cycles.  When a freezer defrosts, it warms the compartment.  This is how you get freezer burn.  Sub Zero keeps the freezer at 0% humidity and the refrigerator at 50% + humidity.
Removes harmful gases that shorten the life span of food.  Introduced into the BI series refrigerators is a cartridge that removes ethylene gas.  This gas is produced by apples, citrus fruits, grapes, blueberries, tomatoes, etc. and when the gas circulates, it causes other foods to rot more rapidly.  All of the air in the BI series flows through this cartridge and removes the gas.
So here are some reasons a Sub Zero may not be worth the money to you:
You go to the store more than once a week
You don't store much frozen food
You keep mostly condiments, jars or cans in the refrigerator
Aren't Sub Zero Refrigerators like every other refrigerator?
Most of what has been written above clearly states that they aren't.  However, here are a few more things to consider:
A Sub Zero refrigerator offers many types of installation options, depending on the series.
The BI Series refrigerators are available in 30" and 36" bottom freezer refrigerators, 42" and 48" side by side refrigerators.  These are available in stainless steel, or you can add your own custom panel in both a standard install or flush inset application.  The standard panel application is when the panel stands proud of the cabinet.  Flush inset is when the panel will be flush with your other panels; however, special considerations apply.  It's best to consult an experienced designer or appliance salesperson for this.  Coming in early 2012 will be the Sub Zero internal ice and water dispenser refrigerators.  The panel applications will be the same as the current 42″ and 48″ wide models.
The 700 series refrigerator and freezer are designed to completely integrate into your cabinets.  You can supply your own custom panels, or Sub Zero offers stainless steel panels as an accessory.  They also offer refrigerator / freezer drawer models.  The freezer models are available with or without an icemaker.
The 648PRO and 648PROG are the ultimate statement in refrigerators!  These are designed to make a statement and come only in a 48" width.
The UC series, or undercounter, offer a beverage cooler for a combination of storage for beer, wine, and soda, an all refrigerator, and icemaker.
Sub Zero wine refrigerators are available in 30" and 27" widths in a full height cabinet, and 24" width for undercounter applications.
"But Consumer Reports says…"
I hear from time to time that CR gives Sub Zero horrible reviews.  I've never seen a horrible review, but people will say they've seen CR state there are a lot of warranty issues.  THERE IS A REASON FOR THIS.  Consumer Reports totals service calls UNDER WARRANTY.  Since Sub Zero offers up to a 12 year warranty for the sealed system – as opposed to 5 years for most brands – they extend the time period and number of repairs CR will report.  In this case, Sub Zero's generosity goes to their disadvantage in this consumer magazine, but way to the actual consumer's benefit!
Not only would I buy a Sub Zero refrigerator today, I have in the past and recommend you check them out, too!