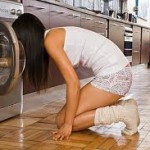 Are you experiencing a front load washer smell and you aren't sure what to do about it?  This is one of the most common complaints customers have about energy efficient front loading washing machines – a mold and mildew odor.  But have no fear!  You don't have to live with a stinky washing machine.  You can get rid of the bad smell and have clean clothes again.  Let's first start off with probable and possible causes.
History
Maytag made this problem famous with the introduction of their Neptune series front loading washing machines.  This is a great example of a manufacturer diving into virgin territory without extensive life cycle product testing.
The first run Neptunes didn't have proper drainage in the boot (see below) and poor ventilation in the washer.  Mildew proliferated and created a horrible musty smell.  Although not all machines had problems, there were enough to warrant a class action lawsuit and Maytag lost enough money through a decline in reputation that they were forced to sell.  Whirlpool currently owns the Maytag name.
Causes of Front Load Washer Smell:
Water in the Boot
The vast majority of front loaders use a rubber boot, or gasket between the wash basket and the frame of the washer.  This system has worked well for decades, but does tend to leave a little moisture in the boot between washes.  Manufacturers will always recommend because of this that you do one or two things to prevent a mildew buildup and resulting smell – dry the boot with a towel after doing laundry for the day, and additionally to be really safe they will recommend you leave the door open when you are done, too.
Animal Fat in Liquid Detergents
Liquid detergents contain a high concentration of animal fat.  When you have washing machines that don't drain every bit of water out of them (front loads leave residual water in the boot, as previously mentioned, and in the sump or pin catch area), having animal fat in this can create a stink.  Most people are used to buying detergent at the grocery store.  In the past, I didn't want to tell people what kind of detergent to use other than the necessary High Efficient detergents the machines require.  However, I have found from personal experience and from years of experience with customers that you really should use a great POWDER detergent (no animal fats) such as Persil or Ecovantage.  These detergents are distributed typically by your Miele and Asko distributors and are very effective in cleaning and rinsing out of the clothes regardless of the machine, and they are environmentally friendly.  And even though they cost more up front than the Tides and Seventh Generations type detergents, they will cost less in the course of using them because they require less per load than other detergents.  You can usually find the Persil and Ecovantage at your independent appliance dealer – not the box stores.
Poor Ventilation
This is something the manufacturer has done fairly well in the past.  I'm not aware of any manufacturer that doesn't have at least a vent in the back of the machine to allow air to move through the machine.  When you leave the door open when not in use, air can flow through the machine and dry out the boot properly.
What You Can Do
Use a High Quality Powder Detergent.  Find a retailer near you that sells the previously mentioned detergents I recommend.  You can get rid of the smell if you continue to use liquid detergent, but it will keep coming back.
Perform a Deep Cleanse.  You can accomplish this by running to cycles with NO CLOTHES in the machine on the longest hottest cycle with bleach and vinegar.  The first time pour 4 cups of BLEACH directly in the wash tub and run the longest hottest cycle all the way through.  The next time use 4 cups of VINEGAR on the same cycle.  This could be a part of your maintenance plan – maybe once a quarter or 4 times a year, depending on need.
Leave the Door Open Between Uses.  This will help with proper ventilation and drying out the boot.
Wipe the Boot After Each Wash Session.  Simply dry the boot between the wash basket and door frame.
This should take care of most of the issues people will have.
Currently, Whirlpool offers a "FAN FRESH" option that will circulate air after a cycle to dry out the boot.  I expect other manufacturers will follow suit, as there are no secrets in the appliance industry.
(For those of you who are interested in ordering a case of detergent, contact me at applianceexpertise (at) gmail.com.  I won't be able to ship less than a case.)
I you have a front load washer smell, follow the above advice and you'll be well on your well to ending that mildew smell and better cleaning performance, and check back often for more tips for your appliances.