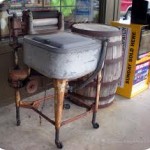 Looking for the Best Washer and Dryer 2011?  It's not as easy as you might think.  There are several factors that can potentially make a best washer and dryer.  As an appliance industry professional for over 15 years, I'll give you my top 3 picks.
(Side note: I know that many people have asked what is the Best Washing Machine 2010, and my answers will be the same to what is listed below since they were available in '10, as well.)
Since I've been to countless hours of product training and I've also had the luxury of hundreds of customer's user feedback on their own purchase, I am listing those washers and dryers that I would purchase myself or have owned in the past.  As a matter of fact, I have sold these particular brands to close family and friends.  (I won't sell a product to someone when I know it has a statistically higher chance of failing before the normal life cycle is up, and then have to go through the awkward conversation of having to find a repair person for them!)
First, the criterion I use to pick the best:
Exceptional wash performance
Brand or Category reliability
Expected longevity
I also like to choose what I believe is the best in 3 different price ranges.  In this case and in my opinion, the one that costs the most IS the best washer and dryer in 2011.  But let's say you're on a budget and you can't afford it now.  I'll give you a step down and then another.
Since I believe that front load washers give the best performance today, my top 3 are front loaders.  However, I will give you what I believe is the best performing top load washer and dryer as an added bonus.
Best Washer and Dryer 2011
Winner – Miele W4842 Washer and T9802 Dryer (Electric)
Miele has been building washers since 1901!  This German engineered and manufactured washer and dryer set is built for the long haul.  In Miele's own literature available to the consumer, they state an expected life cycle of a minimum of 20 years.  Although this is not a guarantee, no other manufacturer will dare to make a claim like this!  (The average life of a washer and dryer today is around 10.5 years.)  Miele can do this because they are still family owned and vertically integrated – which means they build virtually everything in their machines.  Vertical integration in this case means a tight grip on quality control.
Washing performance is exceptional.  My best friend was able to get a red wine stain out of his bride's silky white wedding dress that had sat for 6 months!  And Miele's honeycomb design in their wash basket means a more gentle wash (clothes last up to 4 times longer) and even better water extraction.
The dryer moves almost twice as much air as the standard dryer, and therefore can use a much lower temperature to achieve a proper drying result.  This saves energy and clothes last longer, too.
This Miele washer and dryer are not cheap, but I believe if it fits in your budget it is the best value.  You will save money in energy consumption, your clothes will last longer, and you will have this set on average twice as long as anything else!  It will currently cost you approximately $3400.00 (see your Miele dealer for price) before tax.  Get it if you have the funds!
Miele also offers a "Limited Time 90-Day Money Back Guarantee" which states: "If you are not completely satisfied that Miele's washing machine, with its revolutionary Honeycomb washing drum, is cleaning your clothing better than the machine you owned before, Miele will refund the full purchase price of the washing machine."  Terms and conditions apply.  They also give you an 800 number to call for info.
The ONLY drawback to the Miele set is the dryer is currently not available in a steam dryer.  I wouldn't let that bother me, though.  I would simply sprits my clothes with water and put in the dryer to achieve the same results.  (BTW, this is what I would consider the Best Washing Machine 2010, as well.  As a matter of fact, I don't think anyone has built a better washer since its inception!)
Silver Medal – Bosch WFVC6450UC Washer and WTVC6330US Dryer (Electric)
Bosch is a German manufacturer, but you get the best of both worlds with this set – parts built in Germany and Assembled in the USA!  Bosch is another manufacturer who didn't start building front loading washers and dryers in the last few years and have a very good track record of reliability for laundry.
The washer has two great features, in my opinion: a Stain Removal option and sealed washer pan.  The Stain Removal option will prevent hot water from being dispensed at the beginning of the cycle thereby preventing protein stains from setting.  (Don't ask me why EVERY washer doesn't have this feature!)  And the washer is sealed on the bottom which will prevent a major or minor leak that could ruin your floor.  (Miele has both of these features, as well.)
The dryer offers most features of a nicer dryer with the added benefit of steam.  If you've worn a blouse or dress shirt for a few hours, you can toss in it in the dryer and release the wrinkles.
This is in Bosch's middle of the line up and will cost you approximately $2400 for the set.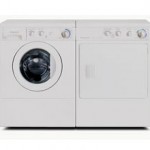 And the Bronze goes to – Frigidaire FTF530FS Washer and FEQ332ES Dryer (Electric)
This is a pretty basic set, but because this set will set you back approximately $1200 before tax, I would choose it on a budget every time.
This particular set has an impressive history.  Originally a Bendix, then a Westinghouse, then White Westinghouse, this machine has had the advantage of years of a solid design, dependability and performance.  It's not as big as the Miele and Bosch, but it will still hold more than a standard top load washer.
If you are on a tight budget and need something that's proven very reliable over the years, this is a no-brainer!
Best Top Load Washer and Dryer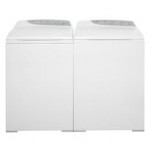 Fisher and Paykel Washer and Dryer
This New Zealand manufacturer has been producing a great machine with a direct drive motor in the washing machines and intuitive wash programs to take out most of the guess work.
It's hard for me to pick the best in their lineup, but they offer two I would show you:
WL42T26CW1 Washer and DE62T27CW2 Electric Top Loading Dryer
WA42T26GW1 Washer and DE62T27GW2 Electric Top Loading Dryer
This first has an activator agitation system that gives you more capacity.  The second has the standard, but soft vein agitator.  (Note: I owned a previous version of this machine and loved it!)  The dryers are top loading.  This is a unique feature that helps set them apart.  Pricing for the sets are between $1600 – $2000.
There are several brands that make very good machines – Whirlpool, GE, etc.  I would stay away from machines (and most kitchen appliances)  made in South Korea.  You can find plenty of reviews online about how customers were very unhappy with how long they didn't last.
If you're in the market for laundry, keep these things in mind and you will find your best washer and dryer 2011.