I received this question from a reader, "Dear David, which KitchenAid mixer should I buy?"
Excellent question!  And because you're looking for a Kitchen Aid mixer you're definitely on the right track.
This question should really only be answered by no one other than yourself.  But I'll help you find the right one for you.
Do you Bake for Volume and How Often?
6 Quart Stand Mixer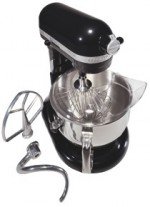 If you answered yes and very often, you may very well benefit in buying the 6 quart stand mixer, such as the KL26M8XOB (available only in Onyx Black) or KP26M1XWH (White, also available in 10 other colors – Blue Steel, Copper Pearl, Dark Pewter, Empire Red, Licorice, Nickel Pearl, Onyx Black, Pearl Metallic, White, Caviar, Meringue).  These stand mixers are virtually identical except the KL26M8XOB comes with an 11 wire wick instead of a 6 wire wick the KP26M1XWH comes with.  The 11 wire wick will aerate better and faster.  They are both 10 speed, include the Pouring Shield, Burnished Spiral Dough Hook, and Burnished Metal Flat Beater.
Performance Features of both models:
Bowl Size – 6 Quarts
Bread Yield in Loaves – 8.25
Cookie Yield – 13 Dozen
Mash Potato Yield – 8 lbs.
575 Watts
MSRP for each is $499.99.  Considering how long these things last and how often you may use it, the extra price could be very worth it.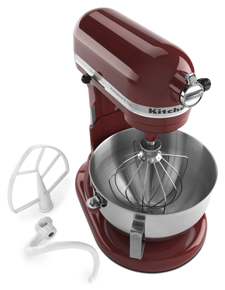 If you like the features of the above but aren't convinced you need that size capacity, you should consider the 5 quart KV25G0XGC (Gloss Cinnamon and 7 other colors – Cobalt Blue, Blue Willow, Empire Red, Imperial Grey, Metallic Chrome, Onyx Black, and White) at an MSRP of $419.99.  You'll save $80 compared to the above 6 quart models.  Instead of burnished metal knead and hook, this model comes with nylon coated tools.  It also includes a 6 wire whip.
Performance Features:
Bowl Size – 5 Quarts
Bread Yield in Loaves – 6.75
Cookie Yield – 10 Dozen
Mash Potato Yield – 7 lbs.
450 Watts
It's a good way to save money (and most of us are on a budget these days!), but if the $80 isn't a big issue for you, I'd still recommend the 6 quart mixers listed above.
If you don't want to be in this price range and a 5 quart mixer will suit your needs…
5 Quart Stand Mixer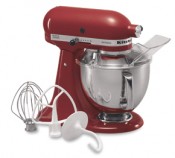 You still have plenty of mixing capacity with the KitchenAid stand mixer KSM500PSER, KSM150PSER (KitchenAid Artisan series), and KSM155GBCA.  The KSM150PSER is available in 27 colors!  (See their website for the list.)  There isn't much of a difference between the 3 for the MSRP of $349.99.  If you like the idea of Burnished Metal hooks and beaters, then go for the KSM500PSER.  If you want color, you'll choose one of the 27 of KSM150PSER.  If you'd like a glass mixing bowl instead of metal, the KSM155GBCA will be your choice.
Performance Features of these 5 Quart Mixers:
Bowl Size – 5 Quarts
Bread Yield in Loaves – 4.5
Cookie Yield – 9 Dozen
Mash Potato Yield – 7 lbs. (6.5 for the KSM500PSER)
325 Watts
If you've ever been in to a Kitchen Aid showroom with you've probably seen all of the KSM150PSER colors.  (I did when I went to product training in Atlanta.  It was an impressive display!)
If you're on a tight budget, or if you won't use your mixer often and when you do you won't be doing a lot of volume…
4 ½ Quart Stand Mixer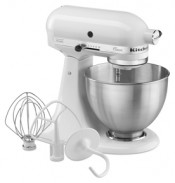 Most people choose this because they are on a budget, and because there are currently 6 models available at differing prices, I'd recommend you get the one that saves the most money – the K45SSWH.  It also offers the nylon hook and beater, and a 6 wire whip.  This model is only available in White.
Performance Features of the 4.5 quart Mixer:
Bowl Size – 4.5 Quarts
Bread Yield in Loaves – 3.75
Cookie Yield – 6.75 Dozen
Mash Potato Yield – 6.5 lbs.
250 Watts
All KitchenAid mixers have several attachments that are available at an additional cost, such as:
Sausage Stuffer Kit
Roto Slicer with Shredder
Ravioli Maker
Pasta Cutter
Ice Cream Maker
etc.
Now that you are armed with this knowledge, you should easily be able to choose the right mixer for your needs and not anyone else!
If you have any questions like "Which KitchenAid mixer should I buy" or any other appliance question, please email me and I will be happy to answer it for you!