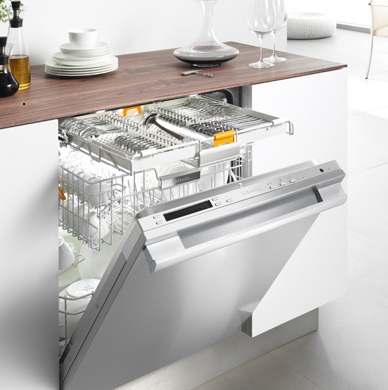 Miele introduces the new Futura dishwasher lineup for 2011.  In Miele's tradition of "Forever Better", they are showing how a great dishwasher can be made even better.  Billed as "The World's Most Intelligent Dishwasher", Miele is offering 4 models with panel options available for each: Classic, Crystal, Dimensions (and Dimensions Slimline – an 18" wide version), and Diamond.  Let's take a closer look at these models and Miele dishwashers and appliances in general.
Something new is the AutoSensor™ technology on each of the dishwashers in the Miele line.  This will automatically determine the length of cycle and intensity of wash based on several factors.  If the sensor determines the water is clean at a certain point, it will use less.  If it can tell the water is a little dirty in a time of the cycle when it should be clean, it will use more.  It will automatically add time to the program if need be, as well.  You really don't need to pre-rinse your dishes before they go into the dishwasher.  Even on their older models, I was able to leave egg yolk on forks and plates, milk in cereal bowls, and peanut butter on knives for even up to a week and have them come out clean with the first wash!  AutoSensor™ will make this process even better by producing the cleanest dishes done with the least amount of energy needed.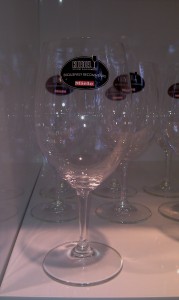 New with this series is the endorsement of Riedel – a fine glassware manufacturer.  Riedel exclusively recommends their fine glassware to be washed in the Miele dishwashers – due to the inclusion of its Perfect GlassCare system.  If you own $25 or more glassware, you don't want to wash them in any other dishwasher.  Miele's Perfect GlassCare system washes at the proper temperature and spray pressure to ensure that your expensive glasses will not etch or get cloudy.
All Miele dishwashers use the CleanAir™ drying system.  This incorporates a bladder inside one of the walls inside the dishwasher (you can't see it), room temperature air, and a circulation fan.  At the end of the cycle, the bladder is filled with room temperature air which cools the wall inside the dishwasher.  The fan circulates the hot moist air on to the cool wall and creates a nice condensation process whereby the moisture forms into droplets and drips out of the dishwasher.  The Dimension and Diamond models add to the process for those who want an even better dry.  (Discussed more later.)
Quiet.  These are the QUIETEST dishwashers on the planet.  It seems that most manufacturers claim to have the quietest dishwasher on the market today.  And because there is no standardized test that every manufacturer uses, the consumer is left in the dark.  Miele's noisiest dishwasher – the Classic – is 42 decibels!  The quietest is 33 decibels!!!  Humans can't hear under 30 decibels and we can barely detect a difference between 3 decibels.  Rest assured, Miele offers a quietness guarantee that states if you aren't happy with how quiet their dishwasher is, they will take it back at no cost to you.  No one else offers that kind of assurance.  As with every brand, the more money you spend, the quieter the dishwasher will be.  Miele gives a "Q" rating for sound level.  The higher the number, the quieter the dishwasher.  The ratings are as follows:
Classic – Q1
Crystal – Q2
Dimension – Q3
Diamond – Q5
Clean Touch Steel – this is great for those who hate fingerprints on stainless steel!  Miele uses a process to impregnate their stainless steel with glass.  This makes fingerprints unnoticeable and cleanup a breeze.  Simply use soap and water, or a non-abrasive cleaner like 409 or Windex.
Classic Dishwasher
Models available:
Pre-Finished models (Control panel facing forward with finished door)
G4205B – standard basket, Black
G4205W – standard basket, White
G4205SS – standard basket, Stainless steel
G4205SCB – silverware cutlery tray, Black
G4205SCW – silverware cutlery tray, White
G4205SCSS – silverware cutlery tray, Stainless steel
Pre-Finished, Fully Integrated Models (these are concealed controls located on the top of the door, and the door will have a full width handle)
G4275SCSF – silverware cutlery tray, Stainless steel
Fully Integrated Models (require a custom wood panel, or accessory panel available in white, black or stainless steel)
G4270SCVi – silverware cutlery tray, and is in compliance with ADA – the Americans with Disability Act.  These dishwashers are shorter and you will need on if your cabinet opening is under 33 1/8" tall
G4275SCVi – same as above in a regular height
The Classic is the only model available with a standard cutlery basket.  This is for the consumer who is absolutely positive they won't like the silverware cutlery tray that Miele has made famous.  Let me say this…  When I had my Miele dishwasher, the cutlery tray was my favorite feature and prevented me from bending over so much.  Plus, it gives you more room for dishes down below.  Trust me on this, if you are on the fence about the basket vs. the cutlery tray, get the tray.
The Classic and the Dimension series are the two that are also ADA compliant, which means they are a little shorter than standard.  Most dishwashers today require a 34 ¼" to 34 ½" opening height.  Miele standard height dishwashers will accommodate a shorter opening height if you have a 33 1/8" opening.
The Features available with the Classic:
FlexiCare rack system
AutoSensor™
Pots and Pans, SaniWash (in my opinion the best cycle for families – 150° F main wash temp and 170° F in the final rinse to kill all bacteria), Normal, Express, Economy, and Rinse & Hold
Going forward, all Miele dishwashers will have the silverware cutlery tray and no basket available.
Crystal Dishwasher
Models available:
G5105SCSS – Stainless steel with front facing control
G5175SCSF – Stainless steel with top controls and handle on front
As with the model the Crystal replaces, the Diamante, this model is available in stainless steel only.
The Crystal offers all the features of the Classic with this in addition to:
Flexicare Plus rack system (a few more moving parts)
Delay start feature – great if you get a discount for utilities after a certain time of day
Perfect Glasscare
Water Softener – a great feature if you live in an area with hard water.  You simply add softening salt to the supplied reservoir.
Turbo mode (not available in the G5175SCSF) – This increases the spray pressure and temperature to decrease the Pots and Pans, Normal, and SaniWash cycles up to 30%.  Great feature for entertaining.
China & Crystal.  Do not wash your expensive china and crystal in any other dishwasher.  Miele has found that temperatures of 120° F are detrimental to china with gold, silver, or platinum etched into them; and leaded crystal.  You won't have to worry about losing the metals on your china and your crystal won't get cloudy when using this cycle.  It is a long cycle, but very worth not doing them by hand!
Dimension Dishwashers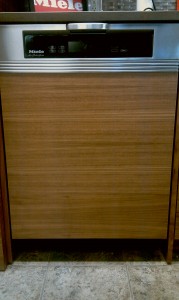 Model numbers:
G5505SCSS – Prefinished Stainless steel
G5505SCi – Stainless steel control panel with no door.  You can have a custom panel made for the lower part of the door, or purchase a black or white panel.  (See image)
G5575SCSF – Stainless steel concealed controls and Signature handle on the front.
G5570SCVi – Requires a either a wood panel or panel available for purchase by Miele.  ADA compliant height.
G5575SCVi – Same as above in regular height
Slimline models – 18" wide
G4500SCi – Stainless steel control panel – requires door panel
G4500SCi/SS – Stainless steel control and door panel
G4570SCVi – Concealed control and requires door panel
The Dimension dishwasher has the features of the Classic and Crystal with the addition of:
Flexicare Premium rack system
3D Cutlery tray.  This is really cool!  The cutlery tray is separated into 3 movable parts to give even greater flexibility.  The center section can be raised and lowered to accommodate larger ladles and chef tools, and the side sections can be moved from side to side.  It's definitely a feature to see in person.
Sensor Dry.  (Not available in the Slimline model)  It uses a moisture sensor to determine when the dishes are dry.
Intensive Mode.  This will give you a more rigorous wash on the bottom rack while still giving you a gentle wash on the upper racks.  Great for washing heavily soiled items like pots and lasagna pans.
Diamond Dishwasher
This is Miele's flagship dishwasher and if it fits into your budget, the one I would definitely recommend – especially considering you should have it more than 20 years!
Models available:
G5915SCi – Stainless control panel and requires door panel
G5915SCi/SS – Stainless control panel and door
G5975SCSF – Stainless steel door with Signature handle and concealed top controls
G5975SCVi – Requires custom panel or one available from Miele
Features are those available with the others mentioned, plus:
FlexiCare Deluxe rack system
Auto Close – the door automatically closes once it senses contact
Brilliant Light – 4 LED lights make it very easy to see inside
RemoteVision™ – with the purchase of this system, Miele will give you lifetime monitoring of the dishwasher via WiFi communication.  This is the ultimate in appliance protection!
Automatic Load Size Sensor – it will optimize according to how full the dishwasher is.  Run the dishwasher half full and it will adjust automatically.  This feature will save time and energy.
Extra Quiet – this places the Db rating almost at the noise floor.  The spray arms alternate delivering water to the different levels of the dishwasher.  You WILL NOT be able to hear it operate in this mode.  It will take considerably longer to wash, but if quietness is the utmost of importance to you, you have found your dream dishwasher!
Heavy Soil, Sensor Wash, Energy Saver, Plastics, Starch / Cheese, Glass, etc.
AutoOpen™ Drying.  At the end of the wash cycle and at the beginning of the dry cycle, the door automatically opens to let the steam out for about 20 seconds, and then it closes again.  If you want the best drying performance available today, this is it.
For a side by side comparison on these models, find out more here for the Futura Miele dishwashers.
If you are on the fence about spending the kind of money it takes to purchase a Miele appliance, consider the following:
According to AHAM (the Association of Home Appliance Manufacturers), the current longevity statistic for a modern dishwasher is a mere 7 – 9 years.  Based on my experience and dealings with customers 5 days a week, I'm convinced that statistic needs to be revised.  I can't tell you how many 5 year old dishwashers I've seen replaced in the last 7 years!  Miele builds their dishwashers, and all of their appliances, to last a minimum of 20 years.  They are able to do this because they are a family owned company that doesn't have to report back to stockholders each year and tell them they made more money by cheapening their products.  Another reason is because they build virtually everything in their dishwashers – down to the very screws!
Proof of their longevity was put to the test when they did a live 19 month internet broadcast of a dishwasher going through cycle after cycle – 7500 to be exact.  Given a life cycle of 20 years this would give you 375 cycles per year – a little more than one a day.  Keep in mind the dishwasher was still going strong at the end of this lifecycle test!
You can easily spend as much on a Miele dishwasher in the Classic, Crystal and even Dimension price range.  (You can spend less on a GE or Whirlpool, but we're talking premium brands here.)  You are statistically likely to buy 2 – 3 dishwashers in the time you would have one Miele dishwasher.  That is why I consider Miele to be the best value in its class!
That's about it for the Miele Futura Dishwashers that are new in 2011.  Go to your nearest Miele authorized dealer to check them out!