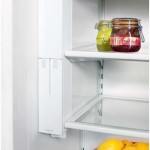 Sub Zero has announced it will be producing internal ice and water dispenser side by side refrigerators!  The anticipated product launch will be January 2012.  (Keep in mind product launches typically take longer than anticipated, but Sub Zero is usually better than most manufacturers.)  This truly is an industry first as no other premium built in refrigerator manufacturer currently offers an internal ice and water dispenser.  Models available in 42″ and 48″ side by sides in stainless steel and overlay panel applications.
The new refrigerators in the side by side category will be especially appreciated by those who like a clean look on the outside of their appliances, but really like the convenience of chilled water.  Sub Zero refrigerators have offered ice and water external dispenser side by sides in the 42" and 48" models, but some customers have stayed away because they didn't want the look of an external dispenser – particularly if they were applying custom panels on the fridge.  With the new internal dispenser, they will be able to have the best of both worlds.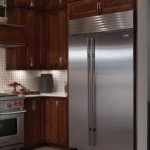 Initial pricing appears to be $500 – $700 more than the non-dispenser models.  Check with your local Sub Zero dealer for pricing information later in the year to get a better quote on price.
As in current Sub Zero Pro and BI models, these refrigerators will also have the water filter as standard.  The filter used is anti-microbial and is recommended for 6 months to a year usage.  (Depending on how much water you drink and ice you produce.)
The internal dispenser will be placed on the upper left corner in the refrigerator compartment wedged between the side wall and shelves.  The container that holds the water has about a 50 oz. capacity.
Nothing else about the refrigerator has changed and still offers all the same excellent life cycle expectancy, fresh and frozen foods last longer than the average refrigerator, and the outer dimensions are exactly the same.
If you are anticipating a kitchen remodel or building a custom home due for appliances in the first quarter of 2012 or after and would like a great quality built-in side by side refrigerator with an internal ice and water dispenser, Sub Zero has the refrigerator for you!  I owned a previous model and I highly recommend them.  Sub Zero appliances are great quality built in the USA.